As you may already have heard, Rob and his team at Logistics Bureau have partnered with an organisation called B1G1, as a way to further one of Rob's driving passions: to help worthy causes the world over, simply by doing what LB does every day.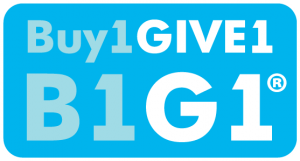 What you may not have heard is that your business, whether large or small, can help a worthy cause through B1G1 too—and doing so is easy.
The great thing about B1G1, is that as a partner, your business can give the tiniest portion of revenue to help a cause, without being distracted from your day-to-day commercial activity. Of course you can give as much as you want, but even a cent or two per business transaction, for example, can be a massive help to a B1G1 cause. Here's a little more information about this innovative global NGO.
What is B1G1?
Founded in 2007, B1G1 is a non-profit organisation with a dual-purpose: To help finance high-impact worthy causes, while at the same time assisting businesses to enhance social presence. That's what makes giving through B1G1 a truly win-win proposition.
Even better, B1G1 utilizes a unique model that makes giving so easy, you'll barely even notice the part your business plays in creating a better world—but your business, your customers and the recipients of your charity will notice the positive results.
The B1G1 vision is to make giving a simple, non-taxing process—to create an environment where every individual and every business wants to give a little, to help the needy a lot.
Why Rob and Logistics Bureau Got on Board
As the founder of a successful consulting group, Rob's livelihood depends on helping businesses create win-win solutions; practices and processes that benefit companies, their employees, customers and partners. By applying that knowledge to his passion for charitable ventures, Rob saw the immense value and simplicity in the B1G1 model. Soon he plans to start helping local charities join the worthy B1G1 cause.
If your own business has been considering how to help a worthy cause or two, you could do a lot worse than getting involved with B1G1. It's a simple and non-intrusive way to give. What may be a tiny amount of donated revenue in the grand scheme of your business, will make a real difference to someone in the world who just needs clean water or other simple necessities.
Simon
P.S. Check out this great 12 Second clip of Richard Branson on the topic of helping those in need: