Giving is so much more fun than receiving!  So why not on my Birthday?
Some of you will know about our involvement at Logistics Bureau Group with the Buy 1 Give 1 'Business for Good' giving program.
Our next milestone is to help 2 million people so I thought I might use my Birthday to nudge us on our way towards that target…
So as this is my 57th Birthday, I thought that on behalf of all my Facebook friends and LinkedIn Colleagues, I would give the gift of fresh water to 57 people in Ethiopia.  Just as a thank you for being part of my life and making a connection.
So by my rough guess, we have just helped about 62,000 people!  (57 x 1,088) Now that makes my Birthday seem much more worthwhile 🙂
Thank You.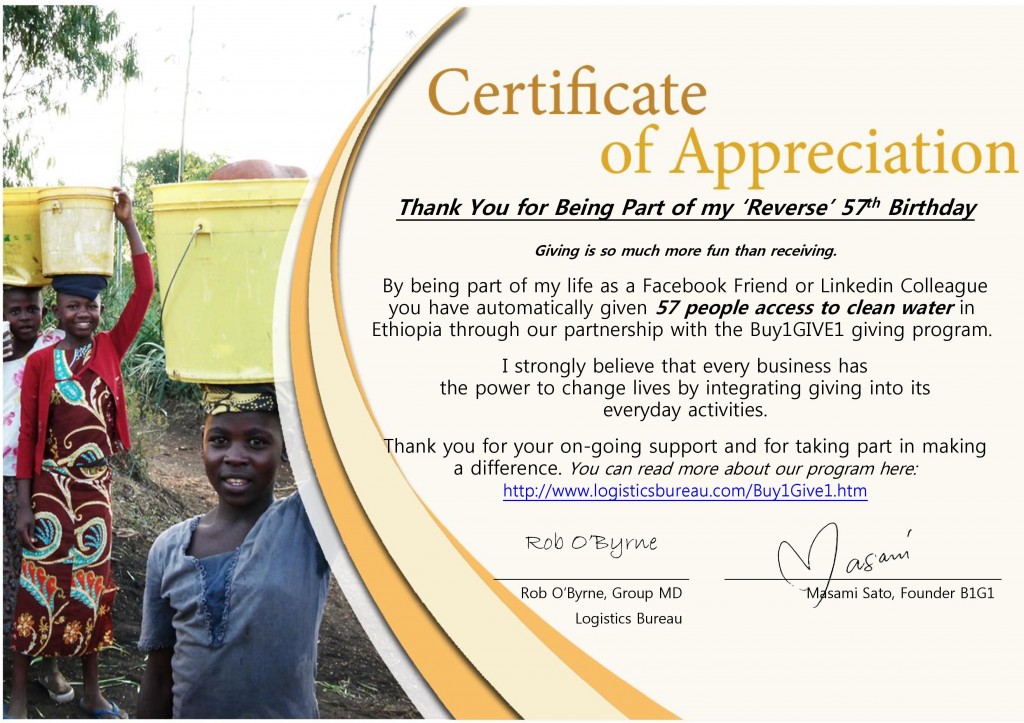 To learn more about our B1G1 program and to check our progress towards our next milestone, take at a look at these links:
The Program: Logistics Bureau and Buy 1 Give 1
Charity Tour: Cambodia Charity Tour with B1G1
Playgrounds:  Playgrounds at School are Kid Magnets
Our Giving Map: A World of Giving – Map
All the Best
Rob O'Byrne
Email or +61 2 8799 2175