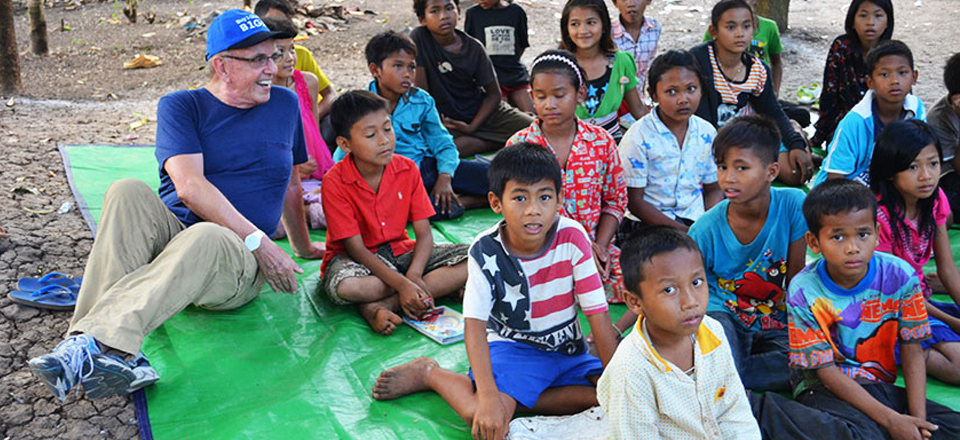 The inaugural Supply Chain Leaders Insights event—latest coaching and education brainchild of Rob O'Byrne—took place on 26th October, 2016. This supply chain "conference with a difference" was hailed as a great success by delegates.
Indeed, many participants stated their intention to return to SCLI in 2017, having gained a wealth of valuable knowledge from the round-table sessions with supply chain experts.
It seems only appropriate then, that attendees of such an educational event should be a source of learning for more than 6,000 impoverished children in the Asian nation of Cambodia. Those children will make up just some of the beneficiaries from the event's ticket sales proceeds, all of which went to worthy non-profit ventures chosen by Supply Chain Leaders Insights delegates.
Gaining Knowledge, Giving Hope
Along with the Cambodian Hope Organization's "School on a Mat" program, donations from ticket sales went via the Buy1Give1 social enterprise to provide clean water in Ethiopia, educational supplies for children in Nepal, and IT training for indigenous communities in Australia.
Did you ever think it possible that simply by attending a supply chain conference, you could contribute directly to the welfare of those who would otherwise go without? That's surely a win-win situation if ever one existed.
But what about those Cambodian children, and what's the significance of the Supply Chain Leaders Insights donations to the School on a Mat program?
Cambodian Children and the Poverty-Cycle
Many children in Cambodia, especially those living in rural areas, are trapped in a cycle of poverty without hope of ever realising their academic potential. Many villages have no school whatsoever, and no educational facilities may exist for many kilometres, leaving residents without access to schooling for their children.
Many rural Cambodian families are so poor that children must begin working at an early age, and all too often either turn to, or are forced into slave labour or prostitution.
For those who escape such a fate, education passes them by in any case, as bread-winning becomes their sole focus in life. Of course without an education, a professional career with the chance of a reasonable salary is an impossible dream—and so the cycle continues.
About the "School on a Mat"
Funded solely by charitable donations, the School on a Mat program helps children, and their families, to escape the cycle of poverty, by bringing basic education to villages that have no established learning facilities.
As the program's name suggests, teaching volunteers set up school on a mat in the shade of a tree, or in a building if one is available with space for 30 or so students. Catering to children of all primary school ages, lessons at the School on a Mat are taught from a whiteboard.
Elementary education is supplemented by lessons in human-trafficking awareness, teaching the children how to spot danger signs and to avoid becoming victims. So not only does this inspirational program give children in rural Cambodia much-needed education, it also helps to keep them safe from predatory crime gangs and other sources of harm.
A Big Thank-you From Rob, and Cambodia's Children
If you were a delegate at this first-ever Supply Chain Leaders Insights event, you have every reason to feel good about your attendance. Thank you for being there, and for your contribution.
Hopefully you got some important questions answered for your business, and as a bonus, you can take some much-deserved humanitarian credit. After all, you helped to give 6,000 children the basic schooling that most of us take for granted.
If you didn't attend this year though, why not register early for the 2017 Supply Chain Leaders Insights event?
For the shockingly low price of admission, you can access the professional wisdom of leading supply chain experts, all while helping others around the world—others like the innocent children of Cambodia, who deserve better than the hard lessons of exploitation and corruption.
Best Regards,
Rob O'Byrne
Email or +61 417 417 307